The TEXAS MUSIC MUSEUM is a treasury containing a unique historical collection that tells the story of the musicians who made Austin the Live Music Capital of the World! Our mission wouldn't succeed without donations from generous people like you. Thank you for your support!


DONATIONS ARE TAX DEDUCTABLE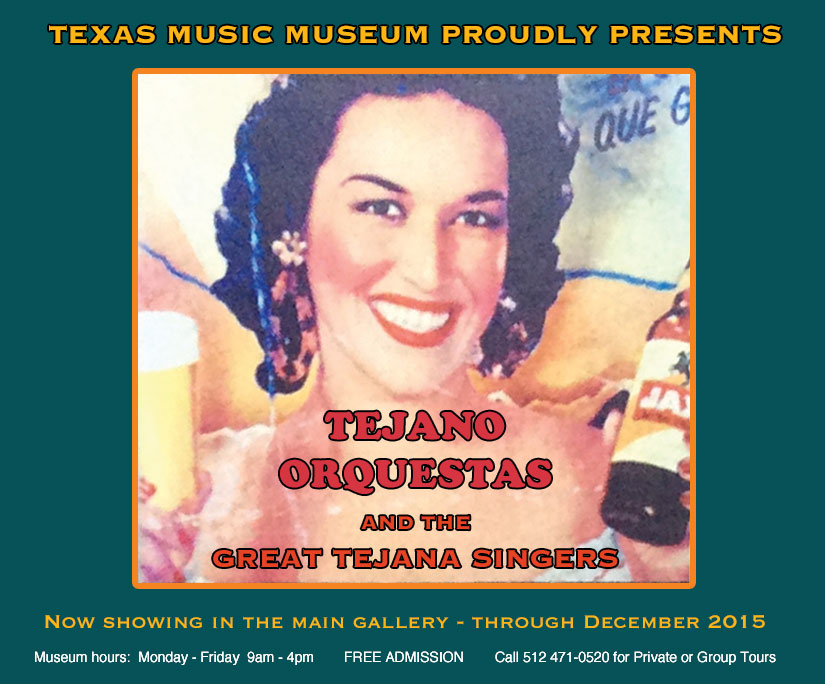 The Texas Music Museum is proud to present "Tejano Orquestas and the Great Tejana Singers," a new exhibit exploring two unique musical traditions from Texas. It offers in depth portraits of the orquesta, an evolving ensemble mixing together Texas-Mexican music with big band and other popular music styles, and the many important Mexican American female singers who sang with them. The exhibit includes individual panels on Lydia Mendoza, Eva Garza, Carmen y Laura, Chelo Silva, Beto Villa, Isidro López, Orquesta Falcon, Sunny Ozuna, and many others. It also features dresses from Mendoza, Garza, Silva, and Las Hermanas Gonzalez and a hat from Rita Vidaurri.
| | |
| --- | --- |
| | This project is supported in part by the Cultural Arts Division of the City of Austin Economic Development Department. |



This spotlight exhibit, focused on East Austin's African-American music history, explores the musical legacies of artists whose contributions help establish Austin as a "Live Music Capital of the World". The exhibit includes rare photographs, biographies, historic posters, recordings, and live music videos. Display cases feature items from the Victory Grill and The Piano Professors, plus collections from East Austin Blues and Jazz communities. The multi-genre exhibit explores Ragtime/Barrelhouse, Blues, Jazz, and Gospel music, and also includes the Rap/HipHop component currently being displayed at the historic Victory Grill.

This exhibit is the result of more than 25 years of research and documentation by Texas Music Museum's volunteers in an effort to preserve the rich heritage of East Austin's African-American musicians. This is an ever-growing, "living" exhibit.





Mexican‐American artists of East Austin including the Grammy Award winning Ruben Ramos and Family, Grammy Award winning Tortilla Factory and Manuel "Cowboy" Donley.





Find us

(view map)

Texas Music Museum

1009 E. 11th Street

Austin, TX 78702 (512) 471-0520 OR (512) 472-8891